Only on a "Gaymer" blog can I truly not be ashamed of my love for Kylie.
While Kylie is the be-all and end-all of my life (after Mele, of course!), video games predate her in my autobiography. I'd like to take a
cue from Luke
and give a little background for my strange relationship with electronic gaming, because, after all, it's played a rather large role in my life considering I wasn't allowed to play any as a child. (Spending a couple years as a video game tester is just a tad ironic.)
Growing up, I did play video games on occasion, and I have good memories of playing Millipede on my next-door neighbor's cabinet, or watching David play Mario 64. As a culture, however, gaming didn't enter the picture until Josh moved in across the street during middle school. Josh, who owned video games galore, was such a VG-geek that his skill level in any game on any console was astronomically better than mine. We played often, I lost every time, and I never improved. It was an interesting dynamic for me, who, at that age, had consistently qualified at the upper echelons in academics and athletics.
I don't want to suggest that I'm the most humble person in the world in my adulthood, but I believe that playing against Josh in numerous video games taught me some humility. I believe it introduced me to the culture of losing, how to deal with it, and how to become comfortable with people talking smack. I feel like this is a positive impact on my life.
You'd think I'd play Cammy.
While I was getting my name in newspapers for my achievements on the baseball diamond, the most monumental of accomplishments, in my mind, was that one-of-a-hundredth time that I'd defeat Josh in a game of Street Fighter Alpha 2 or King of Fighters 98. Looking back on it, maybe Dan wasn't my best choice in character, and I know that in my button-mashing days, those small victories were simple probability, not a learning process. Sooner or later, I'd mash Roundhouse at all the right times. Hell, in those days, I was unable to make Ryu do a hadouken. Down-Forward Punch was outside of my talent level.
(I think Kylie would have made a good King in a KOF movie.)
When the Sega worked, we played Street Fighter 2 instead. The problem with (and the greatest part about) SF2 was that shitty turbo Sega controller with the awful D-Pad. Eventually, if the Sega lasted long enough, we'd give up on trying to play with that shitty controller, turn the Turbo on, press START, and multiply the experience by a factor of funfinity. In essence, a turbo-pressed START button is slow motion with an irritation sound effect, and there is nothing harder on the nerves or more laugh-out-loud funny than slow motion Street Fighter.
That, plus Pilot Wings,
Aerobiz Supersonic
and Warcraft/Diablo II, pretty much sums up video games in the first 18 years of my life.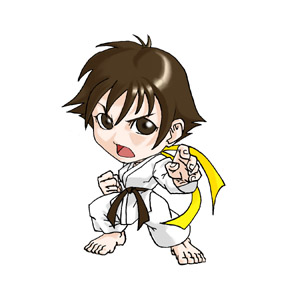 Kylie would not make a good Makoto.
In college I started playing Street Fighter 3: Third Strike. The reasons for this hover somewhere between "That's what my friends did", "I miss playing competitive sports" and "I'm a huge geek already anyways". Endless drunken conversations over Skype with Josh have covered the topic of
Why Sports Are Good For You And Why The Same Goes For Street Fighter
, and in the end I can sum that conversation up with saying, "Uh, kinda," but I think it's fair to say Street Fighter, in some small way, did replace baseball in my life, at least in regards to casual competition.
I was still awful at Street Fighter 3S, but this time I improved, and even though I never became competitive with the BEARcade's regulars, mostly because my execution of special moves continued to resemble button-mashing, I really wasn't that bad. I even went so far as practicing my finger-eye coordination, something I had found so ridiculous when I first watched my roommate train himself to do combos against a motionless AI dummy.
It's telling that, when I graduated, I started playing baseball again, because nobody in LA at the time played video games. It's telling that, once Ian and Alex moved in and Smash Bros became a regular activity, I no longer felt like I needed to play baseball anymore. It's telling that, when I moved to San Diego and pretty much stopped playing video games whatsoever, I joined an indoor soccer league, and it's telling that, in San Francisco, now that I no longer feel physically up to playing sports, I've begun to play Street Fighter 4.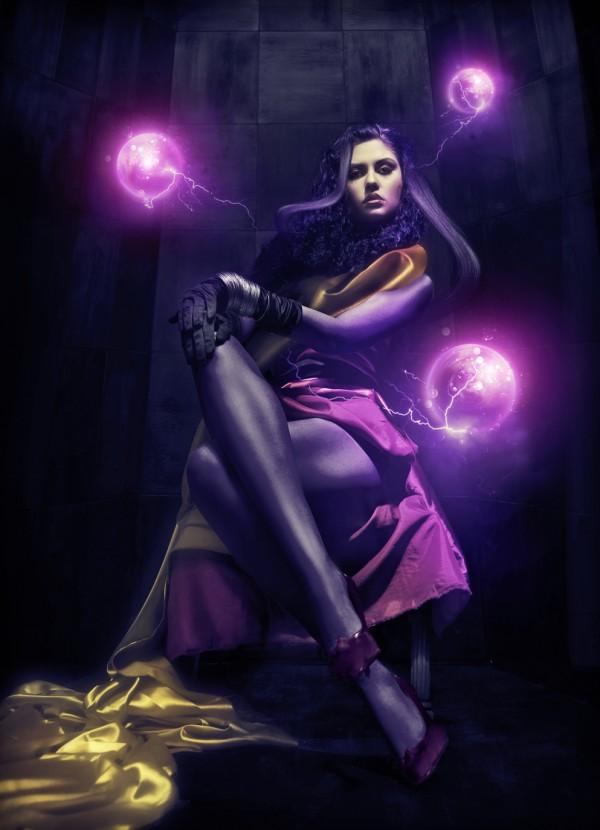 Kylie as Rose? Hmm...
After a couple years of video game testing, and of getting my ass kicked by Alex in Smash, I think I'm actually capable of becoming better at Street Fighter 4 than I ever was in Third Strike, assuming I put in the time. We'll see. If I do, I hope to write a review of the game here in the near future.